It's all about Irish whiskey at the moment. We've just launched our single cask 1991 vintage Midleton to impressive reviews and scores (Whiskyfun – 92, Whiskynotes – 91, Dramming – 91, Malt Fascination – "This is the best Irish whiskey I've had so far"…) and we've got a St Patrick's day tasting at our shop that will be announced very soon (keep an eye on the shop Facebook page or sign up to our newsletter to hear as soon as tickets are available) and veteran Midleton distiller Barry Crockett (who ran our St Patrick's Day tasting last year) is retiring in the autumn. However, to quote a famous Irishman, there's more:
We've got a new prize draw on the website…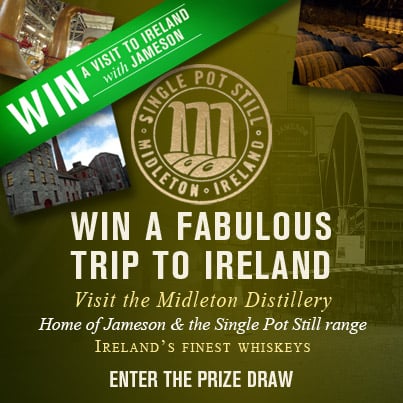 The prize: The lovely folks from Irish Distillers will get you and a travel buddy to Cork from any UK airport that flies there and will transport you from there on to Midleton. They'll then feed you, put you up overnight and show you around their fantastic distillery, as well as treat you to a rather special whiskey tasting.
We're big fans of Irish Distillers's whiskey and I'm still jealous of m'colleague Tim's trip over to Midleton a couple of years back – you can find out what you might have in store in this pair of 'Forbes Classic' blog posts: Part 1 + Part 2.
Entering is simple – just buy any of the whiskies below before the end of March 31st and we'll put your name in the hat to win the trip. We'll be doing the draw in early April and the folks at Pernod Ricard UK will be contacting the winners shortly after. You can find full details over on the draw webpage.  Please note that the draw is for UK customers only (sorry).
So, the whisky list:
And, of course, not forgetting the new Midleton 1991, Cask #48750 – exclusive to The Whisky Exchange and, if we do say so ourselves, very tasty. Here's Tim's tasting notes: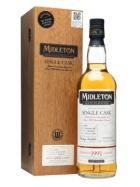 Nose: Naturally there's waves of delicious vanilla cream from the bourbon cask, but here it's merely the backdrop for a mouthwatering array of tropical fruit, with peaches and apricots most prominent. Hints of cantaloupe melon & kiwi that may be familiar to anyone who's tried Midleton's Barry Crockett Legacy, the jewel in the crown of the ongoing single pot still range. The single pot still cereals and brown-sugared porridge are there too, plus rhubarb crumble, sweet raspberry cranachan and honeyed flapjacks in abundance. A captivating nose.
Palate: Sweet honey, then tremendously intense peaches & cream; a spicy bite, then oranges, apricots, dried ginger, white grape juice, rosehip syrup, shortbread & butter biscuits, the kiwi fruit, honeysuckle and various different kinds of melon. A growing woodspicey tingle. Water lifts the woodspices initially, but after a minute or two releases sweetpea, kumquat, orange flower water, nougat, natural caramel and grassy notes.
Finish: Still lots of fruit, becoming orangey. The oak grows more prominent now, with hints of furniture polish and a final burst of warming, drying spice that envelops and lingers longest on the palate.
You can find more details in his blog post from a couple of weeks back.
Anyway, the draw closes at 11:59pm on March 31st, so if you're a UK customer and are after a bottle of any of Midleton's finest, now is the time…