Regular readers of the blog (Hello, Mum!) will be well aware that we're unashamed fans of the fantastic Single Pot Still range of whiskies from Pernod Ricard's Midleton distillery, home of Jameson.  Anyone with too much time on their hands who wants to know more about the category can check our SPS feature on TWE here, read about Barry Crockett's marvellous tasting at Vinopolis here, find out about last year's epic trip to Midleton for the relaunch of the range here and here and marvel over my embarrassing gushing about the Redbreast Cask Strength 12yo here.
So it was with great pleasure that we went along to the Connaught Hotel back in May to witness the unveiling of the latest addition to the canon.  Yellow Spot is a big brother to the much-loved Green Spot, a no-age-statement single pot still of exceptional grassy freshness, which until now has been the only survivor of a series of semi-official bottlings done for the historic Dublin wine & spirits merchant Mitchell & Sons.  In happier times for the industry, back in the days when Irish Whiskey was the undisputed pinnacle of world spirits, there were four original 'Spot' bottlnigs done for Mitchell & Sons: Blue Spot was an 8 year old, Green a 10, Yellow a 12 and Red Spot a 15 year old.
In those days, before distillers bottled their own stuff, it was normal practice for merchants to send their own casks to the distillery to be filled.  Mitchell's would import sherries, port, Madeira and Malaga into bonded warehouses, and when the casks were empty they would be sent on to Jameson's Bow Street distillery to be filled with new make spirit. Jameson would send the freshly-filled casks back to Mitchell & Sons for maturation in their cellars, where the casks would be tasted and marked according to how long they were to be aged with the different colour spot for each age, as above.
It's a delight, therefore, to witness the relaunch of Yellow Spot, which is believed to have been discontinued in the 1950s.  Bottled at 46% – higher than its younger sibling Green Spot – Yellow Spot is also older, with a declared age of 12 years old.  The whiskey itself is a combination of bourbon, sherry and, most significantly, Malaga cask-matured spirit, all of which has been matured full term in its chosen cask – no finishes here.  But what's it like?
Yellow Spot 12yo, 46%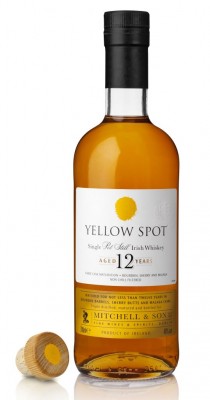 Nose:  Fresh and dried apricots, peach melba yoghurt, vanilla oak and the lovely pot still grassiness and honey in the background.  Where Green Spot is fresh and vibrant like a fruit salad, this feels more luxurious, like a sherry trifle.
Palate:  Gorgeous rich silky mouthfeel, with noticeabley more bite than its younger sibling thanks to the extra alcohol.  Very warming, with all the aromas from the nose coming through, though the oak is more prominent than expected.
Finish: Long, enveloping and mouth-wateringly sweet without being cloying – just like a good dessert wine, say, Malaga for example. Funny that.
Comment: Definitely a very different animal to Green Spot, with an extra layer of sweetness and rich tropical fruit.  A more indulgent, after-dinner dram that takes water beautifully – I even tried it Mizuwari-style with lots of water and ice and it was terrific.  We look forward with anticipation to the revival of Blue and Red Spot…?
The Yellow Spot is available at last from TWE now.