The recent wave of classic cocktail fever making its way around the world has not only reawakened interest in suit tailoring options that allow a bartender to correctly perform a Hard Shake, but also a number of styles of drink that have fallen out of favour of late. Thanks to the sweetness-loving palate of the modern drinker, the European traditions of bitter herbal drinks – and the cocktails their previous popularity inspired – had been disappearing, but with the Speakeasy resurgence they are starting to gain prominence again.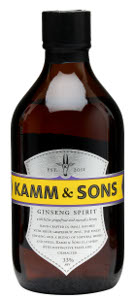 Part of the movement to get these more bitter-tinged drinks back on the bar shelf is Alex Kammerling, creator of Kamm & Sons, the ginseng spirit formerly known as Kammerlings (rebranded recently due to some trademark issues). Alex's rise to his current position of 'drinks company owner' has followed a common path (for some values of 'common path', anyway): artist (sculptor in this case) earns a crust by doing barwork; becomes more involved with booze and does a bit of writing; starts working with some brands; writes a cocktail book; becomes a brand ambassador (for Miller's Gin and Grey Goose); and eventually develops and releases his own fairly unique spirit. With the Kamm & Sons's name change came the need for a relaunch, which Alex held at the hall of the Worshipful Company of Apothecaries, one of the the City of London's livery companies, incorporated by James I in 1617. It was chosen as the ideal location for the relaunch for a couple of reasons:
1. The history of distilled alcoholic beverages is intertwined with the apothecarial arts, with many of the early tinctures and infusions that have evolved to become common drinks today starting out as medicines.
2. It's a really nice building.
Kamm & Sons is a distilled herbal drink, with the ingredients drawn from the archives of traditional medicine. The main ingredient is ginseng, used in Chinese medicine as an enhancing agent for other treatments. Along with the ginseng, Alex macerates Goji berries, Echinacea, Gingko Biloba, Juniper, Grapefruit and other botanicals (for a total of 45) in neutral spirit before redistilling. After distillation the spirit is further infused with manuka honey, wormwood and gentian, as well as annatto seeds to give an orange/yellow tint, and then diluted to 33%.
Alex has continued the medicinal vibe by packaging it in a dark brown bottle very reminiscent of those seen on chemists' shelves in days of yore, and which is actually produced by a medical supply company (who normally use them to store animal anaesthetics).
Tastewise it's a strange duck, reminiscent of Italian bitter liqueurs and aperitifs. The nose is very perfumed, with sweetness and woody bitterness well balanced – there's grapefruit (one of the big flavouring ingredients), gomme syrup, citrus peel, allspice, cinnamon, a touch of soapiness and layers of perfumed wood. To taste it focuses on the bitter and spicy herbs and barks, surrounded by a lightening sweetness and some fruity citrus. It's not going to be a favourite on its own for those with a sweet tooth, but its designed to work well, if not better, as a cocktail ingredient.
Alex's history as a bartender and writer mean that he's got some form on the cocktail front and the Kamm & Sons website lists a selection of recipes – the release wouldn't have been complete without some longer drinks and Alex shook up a few.
The signature serve for Kamm & Sons is with bitter lemon. With the spirit sitting between a gin (albeit without as much juniper as is usual), a bitters and a liqueur, serving it with a nod to a traditional gin mixer works quite well. The other simple serve is on the rocks, garnished with lemon peel to emphasise the citrusy tang. Beyond that the drinks get a bit more complicated.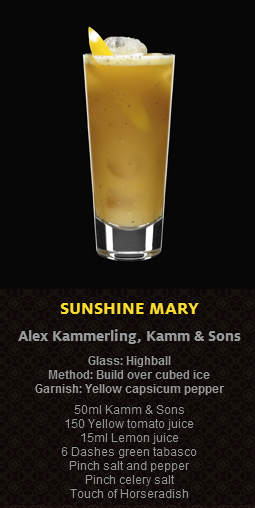 The Kamm & Sons Spritz is an adaptation of last summer's big hitter on the London bar scene – the Aperol Spritz. Alex's version beefs up the flavours, mixing 25ml of Kamm & Sons with 25ml of Antica Formula vermouth, before further sweetening it with 10ml of raspberry syrup (to get it towards the sweetnes of the Aperol original) and topping it with Prosecco. Despite the syrup it was still quite bitter, although pleasantly so, with the herbal notes of both the main ingredients coming through.
I wrote about The Grosvenor in my first TWE blog post and have revisited it since both at home and at the launch. It's a mix of Kamm & Sons, Punt e Mes and smoky Islay whisky which works rather well. Alex used Ardbeg Rollercoaster, which seemed a strange choice, due to any complexity disappearing under the other ingredients, but it gave the requisite smoke-filled kick and matched well with the sweetness of the Punt e Mes and the woody spice from the Kamm & Sons.
My favourite cocktail of the session was the Sunshine Mary, a twist on a Bloody Mary – see the recipe to the right. I've not tried yellow tomato juice on its own so I'm not entirely sure whether it was that, the seasoning or the substitution of Kamm & Sons for the vodka/gin of a regular Bloody Mary that tweaked the cocktail so heavily to my tastes. It was beautifully savoury with the sweetness coming from the juice to provide balance. The herbal notes from the spirit acted almost like a bouquet garni, creating an impressive depth of flavour that has kept me on the lookout for some yellow tomato juice so that I can experiment at home.
So, to sum up – Kamm & Sons is definitely worth a try for the home mixologist. It's not as heavy as many of the italian aperitifs that it reminds me of, like Gran Classico, and adds a herbal tang to anything it touches. And if you really can't be bothered to shake it up, it's rather pleasant to drink on its own.