It's Black Friday, yet again. The strange, American-exported shopping holiday, packed with deals and occasional scrums in department stores. We're not fans of fighting over whisky, so have again – for a 6th year – selected a great dram to pop up on our website at an excellent price, released at 6am GMT to give everyone around the world a chance to grab a bottle.
This year's dram is…drum roll please…a 16-year-old whisky from Caol Ila distillery.
Over the years we've bottled some great drams in the Black Friday range, starting with a 16-year-old Glenfarclas and then moving on through an18-year-old unnamed (it's not Scapa) Orkney, a 21-year-old Glenburgie, a 22-year-old Ardmore and an unknown (we really don't know where it's from) 22-year-old Speyside.
Joining that illustrious group for 2022 we have a 16-year-old whisky from Caol Ila, distilled in 2006.
Black Friday 2022 – Caol Ila 2006 16 Year Old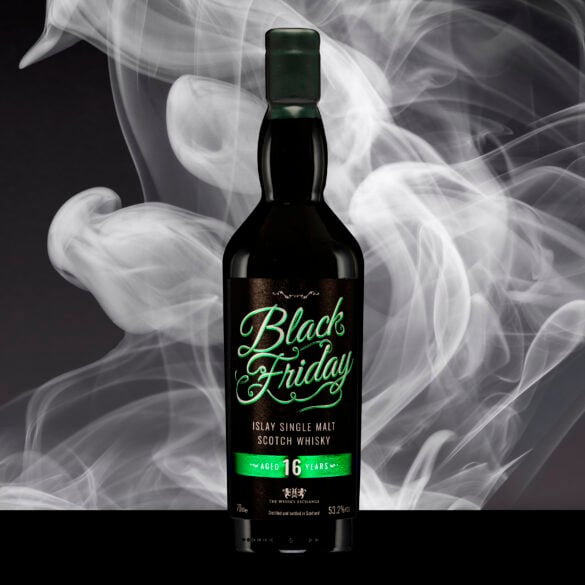 It's a classic whisky from Caol Ila, producer of many of my very favourite modern Islay whiskies. It sits on the dividing line between the two styles I find from the distillery – young and feisty, and mature and mellow – with the sea spray and some of the peatiness of a younger dram allied with the softened smoke, depth of flavour and fruit of an older whisky. It's a vatting of a few casks, with an outturn of 2000 bottles, and is bottled at full batch strength of 53.2%
Nose: Smouldering green leaves and a side of smoke lead – mint and tarragon with a touch of maple-cured bacon. Sweet pastry pokes through the smoke, followed by apple and pear pies, roasted pineapple, singed oranges, chocolate lime sweets and a handful of wine gums. Tarry ropes and briny hints hide at the back.
Palate: Coal dust and peat fires jump out of the glass, diving into sharp apple, more chocolate limes and liquorice. Meaty notes sit in the middle – sweet bacon and burnt edges. Green leaves, soft spice and the wine gums from the nose slowly develop, with the spice building alongside the fruit. There's a burst of crashing-wave ozone and iodine and then a descent into tar and chocolate.
Finish: Green and briny at first with building cocoa, lime and sharp apple. Oatcakes and rye crackers build alongside anise and mint imperials.
It's available from 6am on Black Friday 2022, 25 November 2022, and costs just £94.95 per bottle. Based on previous years, we don't think it will last long. Grab a bottle or two, and let us know what you reckon.