In the big register of national drink days there are some that fall at strange times of year, but National Mojito Day (today – 11 July) is right on the money: the days are hot and long, the humidity is occasionally teetering on the edge of rain and we are in need of a drink. While comparing a slightly uncomfortable London to Cuba's capital Havana is maybe a step too far, it's definitely time for a Mojito.
The origins of the Mojito
To start with, a Mojito is a mix of rum, lime, sugar and soda – a long and refreshing rum cocktail that does well on a hot day. As such, it's no surprise that the modern history of the Mojito starts in Cuba. However, the story almost certainly stretches back even further.
In 1931, a free cocktail menu given away by Sloppy Joe's Havana Bar listed a pair of Mojitos – one with gin and one with rum. The dual recipe continued into the El Floridita cocktail book – published in 1939 and the bible of old-school Cuban drinks – and the drink has grown from there.
However, mixing lime, sugar and mint isn't a particularly new thing, with a naval grog called El Draque – allegedly created by Francis Drake in the late 1500s as a medicinal mixture and sometimes called 'the first cocktail' – and a craze for fizzes, as cocktail culture embraced soda water in the late 1800s, leading to similar drinks appearing. No matter when it first appeared, the proto-Mojito was popular in Cuba during the first part of the 1800s, and developed into the more refined version found in the cocktail books over the space of a hundred years.
For more rum cocktail ideas, check out our Five Great Rum Cocktails post.
How to make a mojito
Every bartender will have a different way of making a mojito, but mine uses a standard ratio and a couple of tips from Tristan Stephenson's excellent book Rum Revolution to make a very classic version. As ever, tweak to your taste – every rum, sprig of mint and shard of ice will be different, as is everyone's tongue.
I'm using Havana Club 3 Year Old, as it's the classic white (well, slightly yellow) Cuban rum, but anything light and in a similarly dry style will work well for this version – our Light and Uncomplicated flavour camp is a good place to start. If you're feeling adventurous, whack in some aged rum or a brown-sugar syrup and see what happens…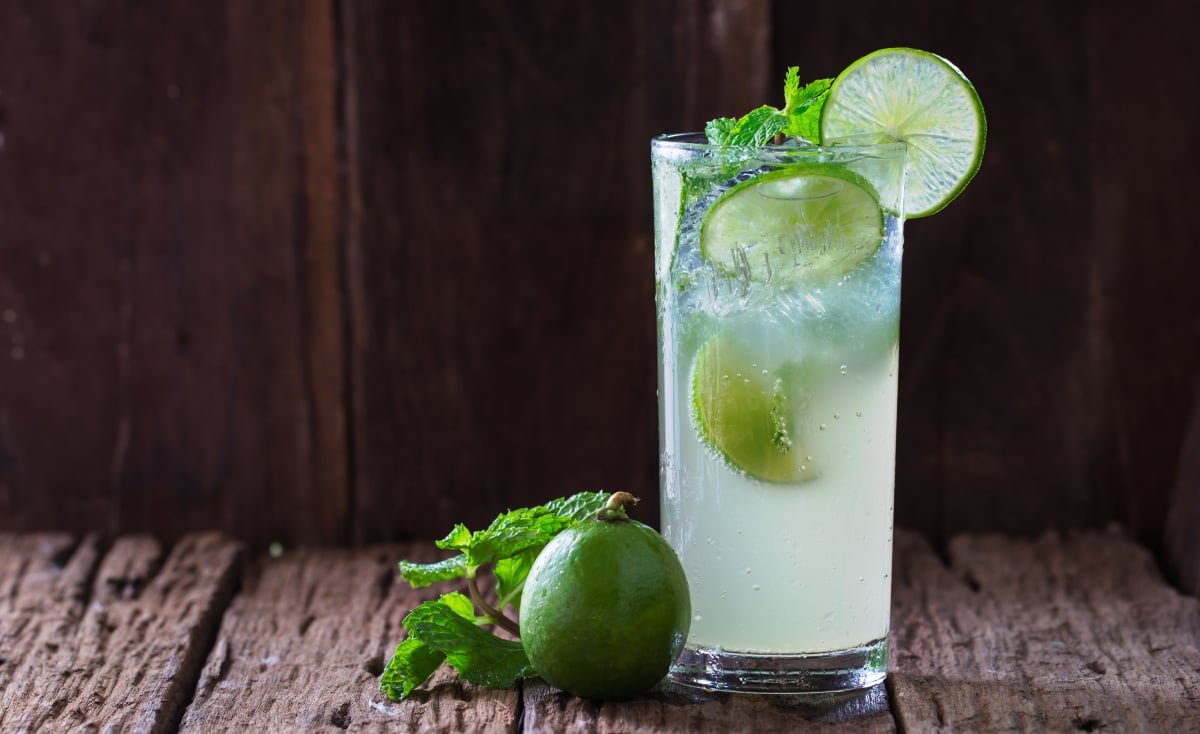 Ingredients:
60ml Havana Club 3 Year Old
40ml freshly-squeezed lime juice
10ml gomme or 2:1 sugar syrup
Soda water (make sure it's really fresh and fizzy – small bottles/cans are great for this)
About a dozen mint leaves
A large sprig of mint and a lime wedge to garnish
Start with the mint. You'll want about a dozen leaves, picked from the stem. Be very careful when handling them and drop them into the bottom of a chunky highball glass. As Tristan Stephenson says 'Please don't "slap" them as is the ritual of some cocktail makers – in doing so you're merely aromatising your hands'.
Gently press the leaves with a muddler or the end of a rolling pin, releasing their oils but not bitter chlorophyll. Now pour in the rum and stir to incorporate the mintiness.
Add the lime juice and gomme, and a big scoop of crushed ice.
An aside: crushed ice, for me, makes this drink. You can stick in a handful of cubes and spend ages stirring, or pop in a load of smashed up ice and allow the drink to slowly change over time as it warms. If you don't have an ice crusher, a plastic bag full of ice covered with a tea towel and beaten to shards with a rolling pin is a nice way to release any summertime stress. Don't go too crushed through – you still want pieces of ice rather than slush.
Stir your glass full of ice and goodness with a long spoon. You'll often see bartenders do an impressive churn, with a napkin over the glass and a piston-like stir to get everything incorporated – I thoroughly recommend having a go: it's fun and sounds excellent. A dainty stir isn't really going to cut it here, so make sure you give it a good swirl.
Add more ice, to the point of overflowing and beyond. Now pour on your soda, as there will be more gaps in the glass than you might think. Give it a stir and top up with more ice.
Poke a lime wedge into the ice next to your extra mint sprig (maybe slap this one gently to help release the aroma, and nicely perfume your hands before you drink), pop in a straw (a recyclable or reusable one, of course) and drink.
Happy Mojito day.
If you're hankering after a summer cocktail, check out our Refreshing Summer Serves page for more ideas.