It's National Picnic Week and with the weekend looking sunny, it's time to grab a blanket, some bottles and a sandwich or three, and head into the great outdoors. Caroline has some tips for how to make sure your picnic is best, forged in the fires of the UK's most competitive al fresco dining experience: the opera at Glyndebourne
The immensely talented musician Richard Stilgoe has a cuttingly brilliant poem about Glyndebourne, which begins:
We're going to Glyndebourne – my dear what a treat
With Giles' fiancée (who's terribly sweet
And frightfully cultured – she's seen Hedda Gabler
And Five Guys named something and Les Miserables).
I've made us a picnic – there's lobster mornay,
And a brie that's so runny it may get away.
My goodness, what bliss with a glass of shampoo!
What Opera?  My darling, I haven't a clue.
The implication, of course, is that the opera is not the reason that people flock to the verdant Sussex lawns – and unfortunately there's a lot of truth to it. Who cares if the brindisi on stage is any good, as long as the bubbles are flowing on the lawn?
Glyndebourne, for many, is the height of competitive picnicking, a peculiarly British sport that you can start participating in quite by accident: one minute you're thinking you might as well spend a bit more to get a better class of Scotch egg, and the next you're upgrading from a Mini to a Range Rover just to accommodate all your picnic kit.
The objective of the game is fairly simple: the group with the best picnic wins. It's not just about the food, however, you'll be competing against people for whom floral arrangements, candelabra and pristine white tablecloths are considered essentials. It's a jungle out there, but there a few rules, although admittedly those that make Mornington Crescent look like child's play. Stray outside them and it's less of an instant penalty and more like being slowly laughed off the pitch, while people take selfies against the backdrop of your shame.
Winning at Picnics
To win, in short, you must be understated, elegant and yet utterly and unselfconsciously lavish. At Glyndebourne, for example, you can actually hire a butler (a between-lectures student, in fairness), who'll not only make you look like an Earl but also – more usefully – buttle your picnic indoors should it start to drizzle. This is perfectly acceptable, but anything ostentatious, especially anything with a whiff of corporate hospitality, is an instant red card.
Competitors eager to enter the fray aren't limited to Glyndebourne: there are countless other country house operas, polo matches, racing events and more where they can mix finery with finger sandwiches while watching something spectacular. Just don't look like you're trying too hard (sideplates: yes, sideboard: no) – and definitely don't forget to enjoy whatever you've actually gone to see. It's not sporting, otherwise.
As it's National Picnic Week and the 2018 booze-and-blankets season is well underway, it seemed like the perfect time to take a look at some drinks that will make your picnic extra special, whether you're going for the competitive picnicking championship title or – heaven forfend – leaving the family silver at home and just trying to have a good time.
Glasses
Plastic is, like, so last year. Show you care about the ocean, and that you have style, by packing some sexy stemware. Extra marks for packing the correct type for each drink you plan to serve – no marks for not protecting them with something squidgy in transit. That's what quinoa is for, right?
Magnums
Bigger, better and more impressive: magnums are the kings of picnic fizz. Don't think of it as needless ostentation, though – because of the way that the Champagne method works, the quality of the wine in the bottle is actually (marginally) better than that in a standard-size bottle.
Do not try this at home
Incidentally, if you're trying to impress by sabraging the bottle – and this can be a high-risk strategy – go for true greatness and just use a kitchen knife. This also avoids all those awkward sword-related questions. Especially the ones at the police station.
Wine
Life is absolutely too short to drink bad wine, and The Whisky Exchange is very lucky to have a tame Master of Wine, Dawn Davies, who writes brilliant tasting notes about a lot of the bottles we have online. They're also quite easy to memorise – wait for a quiet moment and then declaim a few choice quotes to the air, as if suddenly struck by divine inspiration. Preferably while finishing the last drop, so passers-by feel like they missed out on something truly momentous.
Draw a crowd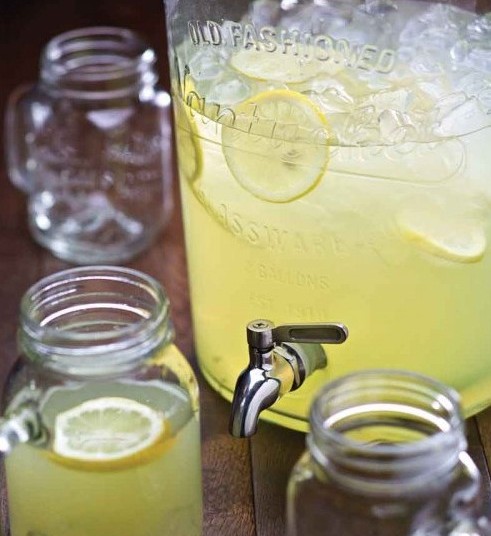 Forget a jug of Pimm's, what about 8.5 litres of punch? Not only will a Punch Barrel on a nifty stand look like a much more enticing version of a floral centrepiece, but the minutes you spend preparing your punch at the start of the picnic will help you achieve an important step on your way to glory: Looking Busy and Totally Uninterested in what Other Picnics are Doing.