Before I started writing about whisky, I wrote about wine. It's still one of my favourite things, and no matter how many whisky dinners I attend, for me, wine is the best thing to pair with food. When I was getting into wine, I didn't know where to start. Should I choose a bottle by country? By style? Price? But the more I learned, I realised that the single-biggest factor in a wine's flavour is the grape variety.
We all enjoy the big four – Cabernet Sauvignon, Chardonnay, Sauvignon Blanc and Syrah/Shiraz – and rightly so, but there is so much more out there. Italy alone has hundreds (if not thousands) of indigenous grape varieties; as a starting point, look out for aromatic whites such as Fiano, Pecorino and Grillo, and for full-bodied reds, Negroamaro, Nero d'Avola and Primitivo.
You might think it risky to go for a name you've never heard of, but provided you know the colour and basic flavour profile (which a good back label or wine list should explain anyway), you can't go wrong. We've put together a six-bottle case that features wines from regions you may normally overlook, and from grape varieties you may not have heard of: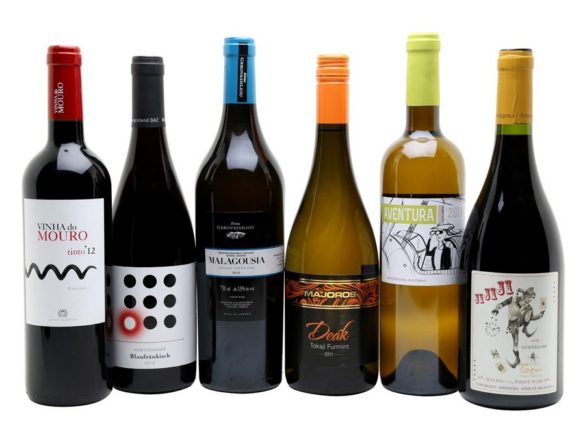 If you like…Sauvignon Blanc
Aventura Branco Susana Esteban 2014, Portugal
Susana Esteban named her Aventura to celebrate her decision to make her own wines. This is a blend of white grapes that combine to deliver a crisp, aromatic wine with a hint of fresh herbs and a zesty finish.
If you like…Chardonnay
Majoros Birtok Deak Tokaji Dry Furmint 2011, Hungary
People think of Tokaji as a sweet wine, but the grape used to make it (Furmint) also makes an excellent dry wine. This example has notes of baked apples and stone fruit, with just a touch of citrus on the finish.
If you like…Pinot Grigio
Gerovassiliou Malagousia 2015, Greece
Leave your retsina memories behind – Greek wines are some of the best you'll find. This bottling is made with Malagousia, and is gently aromatic with notes of rose petals, ripe peach and fresh lemon. Perfect with Asian dishes and shellfish.
If you like…Cabernet Sauvignon
Vinha do Mouro Tinto Estremoz 2012, Portugal
Portugal is my go-to region for big-hearted, great-value wines. This one comes from the southern Alentejo region, and has both local and French grape varieties in the blend. It has plenty of dark-berry fruit, soft tannin and a hint of liquorice.
If you like… Shiraz
Weninger Horitschoner Blaufränkisch 2014, Austria
Blaufränkisch is an indigenous Austrian grape, known for its soft red fruit and spice. Brilliant paired with an autumnal roast duck or sausage stew, it displays notes of cinnamon, black pepper, blackberry and black cherry.
If you like… Pinot Noir
Michelini JiJiJi Malbec Pinot Noir 2015, Argentina
This will convert those who never touch red wine – soft red fruits, a smooth, ripe texture, and oh-so-easy to drink. This partners well with salmon or goats' cheese; serve it slightly chilled.
I hope I've convinced you to try something new – finding a new grape variety is exciting and makes you wonder why you stuck to those same old varieties time and time again. The six bottles above are also available as a mixed case. Get adventurous!