I've never tried Swiss whisky before, and I suspect that quite a few of you reading this are the same. It's always fascinating to try a whisky from one of the non-traditional whisky countries/regions, so when four bottles from the Langatun distillery arrived at HQ, I was keen to taste them.
Langatun was created in 2007, but the family behind it has a history in brewing and distilling that stretches back more than 100 years. Jakob Baumberger took over a small brewery in the 1860s, acquiring a top-quality spring-water source a decade or so later. After his death, his son Hans carried on the work, setting up a peat-cutting business to provide fuel for the distillery and malting plant. Fast forward to the present day and his grandson Hans Baumberger III has continued the story, producing Langatun whisky, as well as rum, vodka and liqueurs.
The distillery is based in an old grain store in the village of Langatun, situated about 30 miles north-east of the capital, Bern. We currently stock two lines: Old Deer and Old Bear. Old Deer is unpeated, and matured in both ex-sherry and Chardonnay wine casks; Old Bear, which is named as a tribute to the family's former brewery, which had a bear as its emblem, is peated, and spends time in Châteauneuf-du-Pape wine casks. Let's give them a try: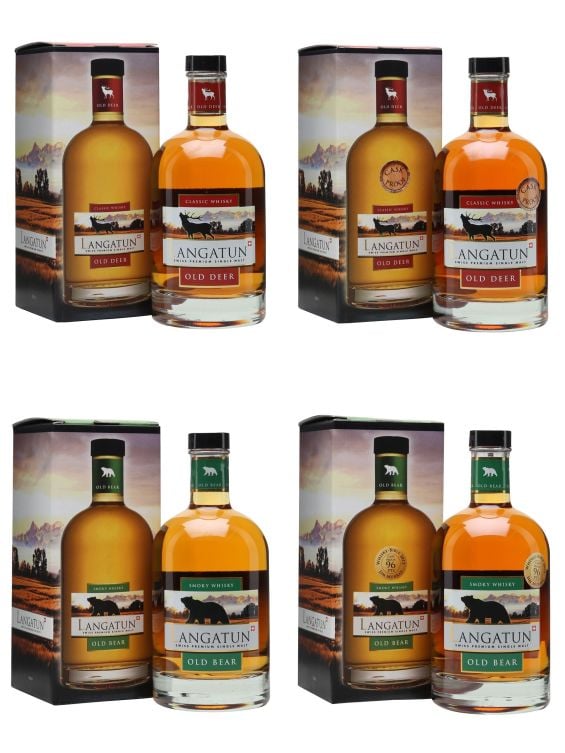 Nose: Good mix of woody spice and rich fruit – roasted banana, toasted marshmallows, Parma violets and a savoury, almost rubbery note.
Palate: Soft and balanced, alternating between soft fruit and toasty spice. Plenty of creamy fruit on the palate – stewed apples and melon – along with cinnamon and nutmeg, cracked black pepper and a touch of banana skin.
Finish: Fruity and peppery, with the soft spice gently fading.
Nose: Creamy aromas, laden with ripe fruits, pink peppercorn, banana skin and wet grass, along with honey-drenched toast and sponge-cake batter.
Palate: Hot and peppery at full strength, with orchard fruit and a soft citrus note. A splash of water calms things down, bringing out fresh lemon, bramble fruit and buttery richness.
Finish: The fruit and toasty spice linger.
Nose: Herbal and pine-cone freshness leaps from the glass, then richer aromas of vanilla custard and stewed red berries.
Palate: More custard notes on the palate, subtle smoke and black pepper, along with stewed fruit, cake spices and toasty oak.
Finish: Burnt sugar and cinnamon, with a hint of red berries.
Nose: Woody spice at first, with cinnamon, nutmeg and clove, followed by stewed red fruits, marshmallow and custard tarts. A faint grassy note, too.
Palate: Rather hot at full strength, but keep going and sweet flavours of sponge cake, stewed fruits and custard. Adding water brings out the fruitiness, with notes of summer berries, fruit cake and brioche. A slight rubbery note, too.
Finish: Rich and sweet, with the red fruits lasting longest.
After trying all four, it's clear that the flavour profile is a little different to most Scottish and Irish whiskies – what really stood out were the tempting red-fruit and sweet custard notes. I didn't get much peat from either Old Bear bottling – perhaps the influence of the Châteauneuf casks outweighed the smoke. Either way, if you're looking for an alternative to your regular go-to bottlings, these are well worth a try.
All four Langatun whiskies are available to buy here. And if you're in London this Friday (13 May), then head down to our shop in Covent Garden – we're pouring samples for customers in the afternoon, so see what you think!