Selecting and bottling casks of whisky takes a lot longer than people think. This time last year – well, 11-and-a-bit months ago – Billy Leighton, master blender at Midleton distillery in Ireland, stopped by with some whiskey for us to try. Rather than keep it all to ourselves, we shared it with you: our loyal customers. Billy hosted a tasting and at the end everyone tried the whiskeys and voted for their favourites – you can read all about it in Stu's blog post.
We chose two whiskeys, the first of which is now up on our website: a hugely fruity Midleton 1991. While that's an impressive dram, it's the second whiskey that's caused a stir: the first single cask of Redbreast they've ever released – Redbreast 1999 Cask #30087, available exclusively from The Whisky Exchange.
While the new spirit that becomes Redbreast is the same that goes into their other releases, the character of the finished whiskey is typified by one very specific thing: sherry-cask maturation.
Redbreast first appeared in 1903 as one of the many whiskey brands owned by W.A Gilbey, the London wine and spirits merchant who are best known these days as the creators of Gilbey's gin. Back then, they were a huge concern, importing and exporting drinks from around the world, including buying and maturing their own whiskey. As a wine importer, they had easy access to Spanish sherry casks – the traditional transport casks that I talked about in my series on sherry casks – and used them heavily for their Irish whiskey, especially when making Redbreast.
Over the years, Redbreast's recipe changed, depending on the spirit and casks Gilbey's could get. This continued until the 1980s, when they stopped making the whiskey and Redbreast disappeared from the shelves. That didn't last long, and in the early 1990s, Irish Distillers revived the name for a new sherry-cask-led whiskey inspired by the style of the original Redbreast from 80 years earlier.
I asked Billy how he chose the pair of casks that we got to vote for:
'First, I was looking for a cask that I would happily use for Redbreast 15 no questions asked – a safe whiskey. Then I looked for something would contrast with that. I didn't want to go for a cask where you'd question if it's a sherry cask or not, with the sherry more in the background, so I chose something with a bit more weight and an older style.'
When we voted there wasn't much in it, but in traditional whisk(e)y fan fashion, heavy sherry won the day.
Irish Distillers keep a close eye on their casks, and Billy told us the life story, so far, of cask #30087: It was built in late 1996 at the Paez Lobato cooperage in Jerez, before being moved up the road to the Paez Morilla bodega. There it was filled with oloroso sherry and left for three years to season. In early 1999 it was emptied, shipped to Ireland and then filled with new-make spirit on 2 April. It sat in warehouse #15, bay #14, until last year, when it was sampled, selected and bottled, and it has now, finally, hit our shelves. When you look at it that way, our year of waiting to get the whiskey doesn't seem that long…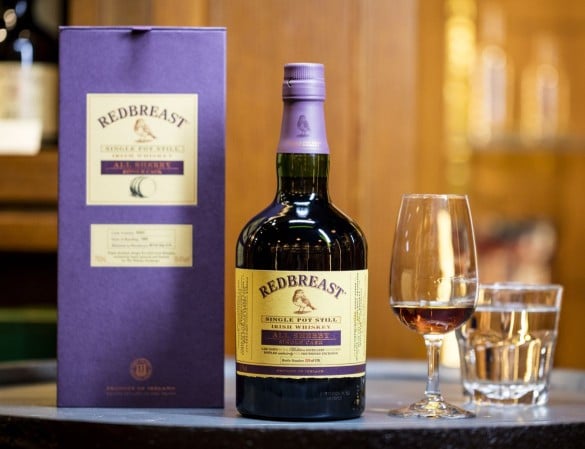 Tasting notes by Billy L:
'A lot of fruit. Succulent fruit. Deep, dark fleshy fruit: figs, prunes, dates, that kind of thing. Even going a little bit leathery – whenever I get this leathery smell, I get transported to Bishops shoe shop in Coleraine. To me, there's a lot of the sherry-cask influence here, but if you push that to one side, you get spices and even a little bit of a herbal note: a little top note of garden mint, nutmeg and a prickle of a freshly ground black pepper.
'Then comes the wood: liquorice. Whenever these casks are made new, toasted and left to cool, you find liquorice. There's not so much of the vanilla that you might associate with a bourbon cask – it's a bit drier in that respect. Add a splash of water and it's very round, very smooth, very mellow, very approachable – it slips down a treat. And at the end, it's quite spicy and there's still that sherry effect. As it starts to fade, there's a little bit of wine still there, there's a toffee note, and then just at the very end it becomes a little bit grassy. Very nicely balanced.'
Tasting notes by Billy A:
Nose: Freshly snapped Crunchie bars, toffee bananas, glacé cherries, old matchboxes and ground almonds. Creamy almond notes continue, with spicy horchata and vanilla pods poking out from behind layers of sherry fruit – raisins, sultanas, dates and prunes.
Palate: Thick and weighty with bittersweet dried fruit and rich caramel and toffee. Fruit then bursts across the palate, with cherries – fresh, maraschino and cocktail – joined by baked apples and singed raisins. Liquorice and blackcurrant sweets sit at the back, with woody spice – clove and cinnamon – and a hint of mint chocolate.
Finish: Raisins, dried cherries and spiced malt load fade to liquorice, mint and a hint of bitter coal dust.
Comment: A full-on sherry-matured dram, with stacks of expected character. However, there's still that classic Redbreast fruitiness peeking in around the edges that not even an active cask can hide.
The Redbreast 1999 single sherry cask is available now from our website and The Whisky Exchange Shop @ Covent Garden.