Some time ago, while taking a whisky cruise from Stockholm, I came across the lovely guys at Box Distillery in Sweden. On my return home, I decided to have a try of their first educational release – The Box Advanced Master Class Course No.1 tasting kit.
Box Distillery is located in Bjärtrå, about 300 miles north of Stockholm, and started producing spirit in 2010. The Course 1 Master Class is a way of raising awareness of what they do while giving their stock time to mature. The format is simple – the box contains five 20cl samples of malt spirit aged in casks with different toasting levels. You are also provided with a log-in for the website that gives you access to the ample course material. Once you have read through the course – and believe me, it goes into serious detail – you should have a thorough understanding of the ways in which toasting affects the spirit.
The course itself breaks down the different aspects of maturation, examining in depth the chemical compounds of oak and how treatment affects the flavour. The layout is relatively easy to follow, although I feel it could do with being a little more interactive. The chemical analysis is interesting, if a little dry.
The tasting itself is done blind. The five samples are in no particular order, but you are given tasting notes for the different styles of toasting. The liquid itself showed some promise, but if I'm honest it was not my cup of tea for general drinking. Having used 100-litre casks for a short period of time, I found the wood/spirit ratio a little unbalanced.
I imagine, however, given time in full-size casks, this spirit will make something rather special. What's more, the spirit is clean, and if you favour big oaky notes shown in some New World whiskies on the market, then you will love these. And it's important to stress that this is not a gift pack of sipping whiskies; this is very much an educational tool aimed at whisky aficionados.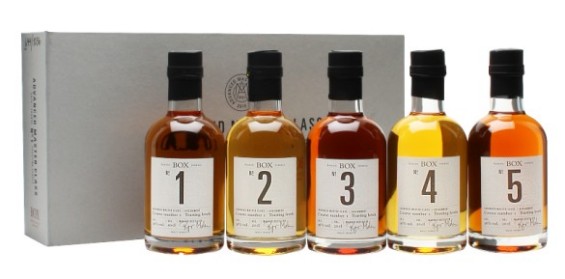 Box No 1
Nose: Malty with dry varnish. A background treacle note with a warm-bread-dough feel to it.
Palate: Liquorice and vanilla. Lots of spice, nutmeg and cinnamon supporting dark tobacco notes.
Finish: A touch of tobacco smoke.
Box No 2
Nose: Pears and dried apricots. Some white pepper and classic American oak coconut.
Palate: Fresh hay stacks and almond powder. Some sweet vanilla, bay leaf and dry spice.
Finish: Star anise and dried limes.
Box No 3
Nose: Spice and dried fruit with a hint of marzipan. Boiled oranges pricked with nutmeg.
Palate: Slightly overcooked caramel and pine nuts with a hint of throat lozenges.
Finish: Milk chocolate and cola bottles that dries out and lingers on.
Box No 4
Nose: Buttery vanilla with yeasty notes. Rye bread straight out of the oven.
Palate: A big sour note – dried limes? – with a very peppery surround.
Finish: Some mango and guava but dries out quickly, leaving a touch of mint.
Box No 5
Nose: Brown sugar and ruby red fruit. Freshly waxed wood.
Palate: Thick and syrupy, like cola concentrate. Warm spice and candied orange.
Finish: Rum-and-raisin fudge, with a touch of bread yeast.
The Box Advanced Master Class Course No.1 is available now at The Whisky Exchange.