Back in May, I was lucky to be invited along to a private screening of Ken Loach's new whisky-related film The Angel's Share, which has just been released on DVD following its triumphant scooping of the Jury Prize at this year's Cannes Film Festival.   If  you're a whisky fan and you haven't seen it yet, it's a must-have. 
The story is terrific, with Early Doors star Jon Henshaw doing a great turn as whisky fan Harry, the supervisor and mentor to a group of troubled kids forced to do community service to avoid a prison sentence.  Harry takes his charges on a surprise trip to a distillery, blissfully unaware of the chain of events that will ensue from this seemingly innocuous day out. The film uses Glengoyne and Balblair for the exterior shots, with Deanston supplying the interiors and a rather comely tour guide.
The distillery trip, which of course includes a tasting session at the end, exposes the film's main protagonist Robbie to the magic of the world of whisky, and as he explores further he spots a chance to get out of the spiral of poverty and violence he's grown up with.  I don't want to spoil the story for those of you who've still to see it, but after some fairly harsh urban realism early on, the film takes a lighter turn and evolves into more of a footloose comedy caper, climaxing at a special whisky auction set in the beautiful environment of Balblair distillery.
The film, like most of Loach's previous work, uses largely unknown actors, with the exception of Henshaw. Not an actor, but hardly unknown, is the magnificent Charlie Maclean, who didn't really have to stretch himself to play a whisky master who encounters Robbie at a whisky tasting and is very impressed with his exceptional nosing ability.
But despite his familiarity with the brief, Charlie still had his troubles on-set, as he revealed in this brilliantly self-effacing quote during the film's promotion tour:
"I started to sweat — it was a very hot day and I sweat very easily. The editor told me yesterday that it had cost him twenty-five thousand pounds to take out the sweat marks under my arms, frame by frame." 
What a legend.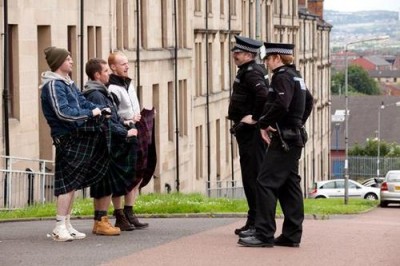 The Angel's Share is out now and, as I said at the top: if you love whisky, you just have to see it.