The summer is upon us and with it there is an unnamed sporting event happening in our capital. That, along with a chunk of serious building work, means that Vinopolis, the home of our shop these last 7 years, will be closing its doors to the public for 6 weeks.
However, worry not – we will be moving for those 6 weeks and you'll still be able to come by and see our excellent range of whiskies and fine spirits. To make things even easier, we're not even moving very far: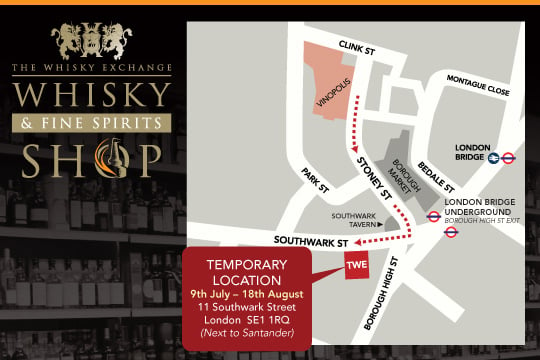 So from July 9th to August 18th we will be relocated to 11 Southwark Street, SE1 1RQ, next door to the local branch of Santander. We will be back at Vinopolis on August 20th and will only be closed for two days while we're moving – July 8th and August 19th.
So, if you're around please pop in and see our temporary home. I'm sure we've got some Ardbeg bunting around somewhere to make it feel a little more homely…