North British distillery has been in the news recently and unfortunately it's not been due to whisky. Happily it was announced last week that the distillery's cooling towers were not the source of a Legionnaire's Disease outbreak that recently hit Edinburgh.
Outside of the bad news there has been a bit of interest in their whisky in recent months, with Douglas Laing having unearthed a pair of very old barrels of spirit, sat maturing since 1961 and 1962. The 1961 sold out rather quickly, being one of the oldest ever grain whiskies that have been released and all, but the 1962 has just arrived. Here's what I thought: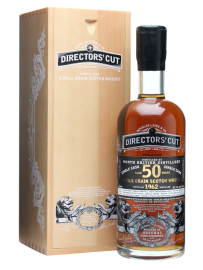 Nose: Almost a hint of sulphur – a slightly struck- match meatiness. That's at the back though, hidden by sweet grapes, sultanas, vanilla, a light almond nuttiness, hints of marzipan, brown sugar, green wood and polished wooden boards.
Palate: Lighter than the nose suggests with a balanced dryness, some old wood sourness, sugary sweetness, freshly seasoned cedar cigar boxes, some vegetal notes, dark liquorice and lingering spice.
Finish: Freshly cut boards, rich dry fruit, cloves and woody spice.
Comment: This tastes old but holds that age well – lots of wood, but it's all good. There's a bit of a sawdusty hint from time to time, but in the main it's rich fruit and polished boards. It also hides its strength – at 57.1% you'd expect a kick, but it never comes. An impressive old dram, although dominated by wood.
I'm a big fan of old grain whisky (with my first birthday stash bottling being a Port Dundas 1978, which has now been joined by a variety of tasty bottlings of interesting grain) and am both pleased and dismayed by releases such as this – pleased as it means that they're getting out into the world and dismayed as people are finally realising what good value they are, driving up both demand and price.
The 1962 North British comes in at £332 whereas the cheapest single malt of the same age on our site is a (rather good) 1959 Glenfarclas Family Cask, a range known for being rather well priced, at almost £900, with other 50 year olds rapidly going north of £1500 per bottle.
You don't need to go up to the 50 year old grains to get excellent examples of old grain and there are a heap of bargains at well below the £100 mark. I recommend getting on the grain while you still can – we see it doing nothing but going up in price and scarcity over the coming years.