We've had a host of American whiskeys arrive at TWE Towers recently, with limited edition Jack Daniel's, big bottles of Bulleit Rye, Wild Turkey 81 and a selection of old bottles all turning up in the last few months. However the most recent one to cross my desk intrigued me, not least because it isn't whiskey.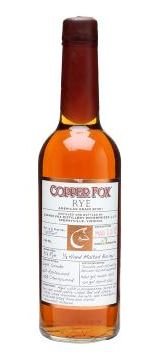 Copper Fox is a 'Rye Spirit' from the makers of Wasmund's Single Malt and is made at the eponymous Copper Fox distillery in Virginia. They were founded in January 2000 and have been playing with interesting spirits ever since, with their main two experiments being smoking malt using wood rather than peat and using wood chips in their barrels during maturation. The latter technique has been used in wine making for years to help develop woody flavours, but has been frowned on by the whiskey business as somehow 'cheating'. Wasmund's have happily ignored all that and continued to experiment.
The Rye isn't a whisky (or a whiskey) for a couple of reasons. In the EU regulations state that you have to be matured for 3 years in oak to be called whisky and Copper Fox only sits in a cask for a year; In the USA you have to (almost always) fill your spirit into a new American oak cask to be called whiskey and Copper Fox uses refill barrels. They take a bit of Scottish whisky making tradition, ally it with a bit of American and add a bit of wood chip innovation to get something quite different.
Firstly the grain, a mix of 2/3 rye and 1/3 malted barley, is lightly smoked using a mix of apple and cherry wood. After distillation the spirit is filled into 'used' (I assume refill) bourbon casks and dosed with new and previously used apple and oak chips before being finished in 'second used' (2nd fill?) casks.
Nose: Loads of rye spice and grain, brown sugar, juicy green apples, crushed cloves and a big creamy sweetness.
Palate: Bitter wood balanced with sweet grain and some fruity sugars. Bubblegum, liquorice, sour cream and soft apples.
Finish: A bit of young spirit, sweet apples, woody spice and lingering grain.
Comment: Lots of flavours from the mash itself as well as some incredible fruitiness. It's a bit different to what you might expect on the palate, but having done some experimentation with the Hudson Manhattan Whisky recently I can't wait to try it in a cocktail.
I wasn't that big a fan of the Wasmund's Single Malt, but this intrigues me. I'll be waiting to see what they do next…